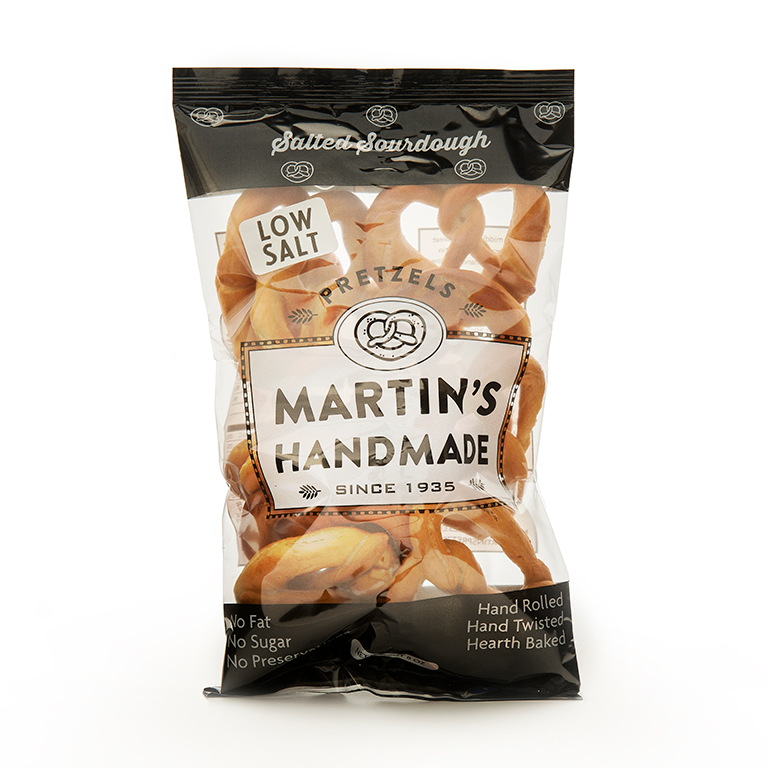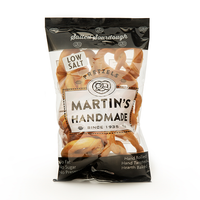 A simpler version of our bestseller, without the surface salt. Hand-rolled, hand-twisted, boiled, baked, and dried, with only five simple ingredients: flour, water, yeast, salt and soda.  No fat, no sugar, all-vegan and using non-GMO wheat.  PLEASE NOTE: These are not the breadstick flavored unsalted hearth that we've had in the past--these are our classic pretzels without the surface salt, which a lot of you have been asking for!  Updated pictures coming soon
All orders will be filled and shipped within 1-5 business days. 
If you have any questions about the status of your order, please contact us at: Hello@MartinsHandmade.com. 
ALL PRETZELS ARE PACKED AS WHOLE PRETZELS. Pretzels are fragile and will break with handling during transit. 
If you are ordering as a gift or need them to arrive mostly whole, we suggest choosing the smaller, 2.75 oz bag options as they seem to hold up better during shipping. For extra protection, order the gift tin or bucket. 
As we say at the pretzel stand, "You gotta break em to eat em!"
Crispy and delicious
These are fabulous! Unfortunately a good number of them has burnt edges that are not as tasty but overall, a very enjoyable snack! Thank you
33 year buyer
They are ok but not as tasty as the ones I buy at the greenmarket … since it is hard for me to get to the market I am happy to be able to get them.
Delicious
Many years since we've had Martin's pretzels. Cannot beat the freshness & crunch plus delicious flavor of these .
Only pretzel I would eat
I have tried many brands of pretzels when I haven't had the chance to buy them but I grew up with martins pretzels and they are the best!!!!